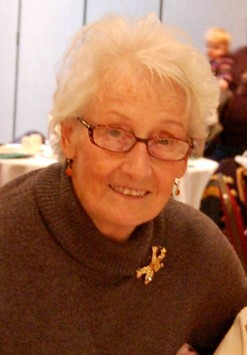 We are so sorry to let you know about the passing of our member Paula Uebrueck on November 23. Paula was a young 92, full of spirit and stubbornness and sassiness to the end. Her remarkable life started in 1927 in Burgheim in Bavaria. She and Horst met after the war, married, and came to America. They were married for 65 years before he passed away just 10 months ago. Together they raised two children, Annette and Chris. Both grew up with a love of their German heritage, a tribute to their parents.
Paula joined Edelweiss in 1980 and did a lot of excellent work for the club. She served as Sachenverwalterin, taking care of our beautiful Tracht, making sure everything fit and was in good repair, and that everyone looked their best. A talented seamstress and needleworker, Paula sewed, crocheted, and knitted including many of our ties and socks. Her other big club contribution was as Küchenobmann, running the kitchen for many years. Her Kartoffelsalat was among the best in our club. Paula was given Ehrenmitglied status in 2000 for her many contributions to the club.
Paula and Horst belonged to the Carpathia club before joining Edelweiss. Horst was an active soccer player and referee, as were son Chris, grandson Kurt, and granddaughter Maria. Paula sang with the Carpathia Chorus into her 80s. Daughter Annette began dancing with Edelweiss while in her teens. After joining Edelweiss in 1980, Horst and Paula danced with the Volkstanzgruppe for many years and loved to dance whenever there was an opportunity. Paula brought her beautiful voice to many of our Christmas and Maifest programs. If musical talent is genetic, we have Paula to thank for the voices and instrumental skills of her four granddaughters who have taken part in Edelweiss performances over the years.
Paula was quite the talented Schafkopf player and enjoyed playing many other card and board games with her family and friends. One of the things we'll all remember about Paula is her hearty laugh. Even if you didn't hear the funny story, you had to laugh if you heard Paula laugh. Paula was always up for fun. She was quick to smile and quick to make a crazy face if you aimed the camera at her.
Paula's legacy is her beautiful and loving family. Daughter Annette and John Edelhauser, along with their three daughters, Renee, Andrea, and Maria & Ben Becker; son Chris and Michelle Uebrueck, along with their son Kurt & Marianne Uebrueck and their daughter Lauren & Joe Brennan. Three beautiful little great grandchildren will miss growing up with Paula in their lives. Paula also leaves behind many nieces and nephews both here in the U.S. and in Germany. Her many friends in Edelweiss and Carpathia will surely miss this one-of-a-kind lady. 
Edelweiss extends its deep condolences to Paula's family.
Rest in Peace, Paula.  Ruhe in Frieden, liebe Paula
Private services will be held at a future date due to the pandemic.  In lieu of flowers, the family would appreciate donations to be made in memory of Paula to either GTEV Edelweiss or the Carpathia Mixed Choir/Carpathia Gemischter Chor: 
GTEV Edelweiss, 17526 Nick Dr., Macomb, MI  48044
Carpathia Club, 38000 Utica Rd., Sterling Heights, MI  48312